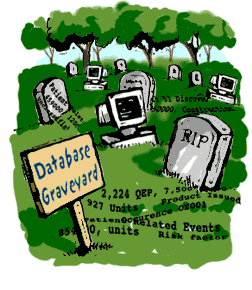 When a company opts for an ERP application package, it actually opts for a set of things including the user interface, middleware, database, supporting application process interfaces (API) etc. At a later stage, when the company expands multifold and if it wants to upgrade to a better version in accordance with the technological advancements then, there might arise a situation wherein all the data stored so far has to be exported and adapted according to the nature of the new ERP package.
In many cases, legacy systems fail to support the data export due to compatibility issues between the old database management system (DBMS) and the new one. Hence a lot of companies across the globe still have their old company data stored in what we call a "data graveyard". Companies that adapted legacy systems during the 80s are struggling with their data graveyards today. Some of these databases are in machine-readable format and some of them are not. Thanks to the evolution of optical storage drives and digital hard disk drives, many companies have upgraded their databases appropriately by utilizing various data migration techniques.
Given the complete picture on data graveyard, it is very essential for present generation of companies to adapt to a simplified data schema and data storage mechanisms, so that importing data to a new technology doesn't pose a problem. Especially, when companies plan to implement ERP, it becomes very essential for them to store huge volumes of data. In such a scenario, it is necessary to have a futuristic outlook so that, plans can be made well in advance for exporting data to a new technology at ease. This is a great way to save cost spent in managing data in data graveyards.