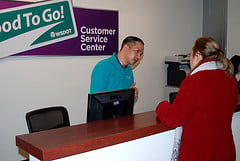 Selection of a CRM solution is one of the most important IT decisions within an enterprise. As it becomes important to provide a seamless experience to the customer, IT managers need to know which factors to consider when it comes to finalizing a product. Here are some tips on how to do that:
Customer view: A good CRM solution should allow the sales department to drill down on the customers based on data. It needs to provide fine-grained classification features, so that the sales people can strategize and manage their resources effectively.
Sales process: The system should also be able to manage the entire sales cycle, right from customer interaction, acquisition, billing, complaints, etc. It also needs to integrate finance-related matters.
E-commerce: Given how important e-commerce has become to modern business, a good CRM solution needs to optimize and track channels and strategies to make the company's online business grow.
Enterprise processes: The solution should be able to interface with the other processes being followed in the company, so as to improve organizational efficiency.
Dashboard management: Having a flexible dashboard is important to track the key metrics. At the same time, there should be clear organization of data according to business functions.
Sales adoption: Last but not the least, the CRM software needs to make the learning curve as flat as possible. It's best when the solution can work with the existing productivity software so as to enhance its adoption.
The right CRM solution goes a long way in streamlining the company processes and making sure that all the sales activities are neatly tied together.
image source : http://www.flickr.com/photos/wsdot