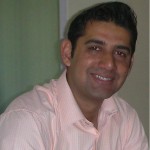 I remember one of my friends saying "My dream is to sit on a cloud, and hang my legs down as if on a swing". I had a hearty laugh, but restrained myself from saying, "It's impossible". For the simple fact that technology is one thing, the progress of which you can never underestimate. Innovation is the name of the game.
Who could have imagined "Cloud computing" to be the buzzword of the IT world? Who could have imagined that there'd be two companies using the same ERP to increase their competitive advantage in diverse areas, while storing their information in the same database? The fact is – it has happened and Ramco has been the flag bearer for "ERP on Cloud" in India. With over 2000 users and 200 customers in a space of 2 years, Ramco has made its clients witness increased efficiency with their data being even more secure outside their premises. With the powerful new-age internet connectivity and the advent of 3G services, the expansive "Cloud" has quenched the thirst of enterprises that were earlier used to individual IT "oases".
But are the big enterprises ready for it? If we go by the recent headlines, the answer is a cautious YES.
Companies Slowly Join Cloud-Computing
Cloud computing catches fancy of companies looking to lower costs
Global companies looking toward cloud computing
Why cautious? I feel the success of these enterprises with the owned and installed IT infrastructure is the biggest hurdle in switching to the "Cloud" model. Moreover, they have been able to afford the huge investments in technical and non-technical staff required to manage private data centers. But will this mindset change, in this market of cut-throat competition and reducing bottom lines? It is an open question for you to answer. However, I believe that for the "Cloud" to replace the numerous "oases", the path will be much faster, than what went into making the bank customer believe that his money is more secure in banks than his home.
Posted By: Sameer Mishra, Business Consultant, Ramco Systems