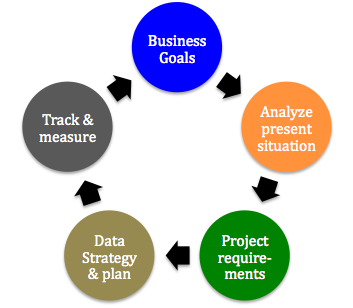 We wrote about data explosion and a brief about how to handle it in one of our previous posts. Having explained that data strategy is one way to tackle data explosion in organizations, let us get into some details of data strategy and how to implement it according to the business needs.
Before even thinking about planning for future requirements, it is vital to understand the goals of the business. Goals that are related to business strategy, technology and finance are to be considered first. Plans of expansion of business across geographical locations, new verticals and diversification help in understanding the business strategy; Upgrading to new technologies, investment in infrastructure or adapting a new platform for business operations are key factors to understand the technological goals; Limitations in operational expenses, revenue targets etc. help understand financial goals. Once these goals are understood, it would be easier for the IT team to project data expectations in the long run.
The next step is to analyze the present business situation in terms of challenges and opportunities. All tools & applications available at present, the data that they capture and memory consumption etc. are identified so that a clear understanding of the present situation is known.
Once the present situation is known, the future requirements in terms of storage and related hardware requirements are projected. Strategic, technological and financial goals are to be taken into consideration while projecting future requirements. Depending on the business expansion plans, storage capacity requirements are to be projected for the next ten or fifteen years.
Once the present situation and future requirements are clearly known, a detailed data strategy is laid out in-line with the business needs. This involves development of a single, unified organization-wide plan for capturing and utilizing corporate data for various purposes taking into account various factors like data quality, performance, data distribution, meta data, ownership, security, privacy, overheads, backup etc. The plan also guides various departments about the crucial data that needs to be captured from different internal processes and the respective time period of retainment. Communicating this to the whole organizations is very important as the data strategy and implementation is an organization-wide initiative.
Once the data strategy is framed and communicated, the IT team responsible for implementation should regularly track and measure the execution. Periodic inspection about the data that is being captured in individual departments and the capacity utilization is very vital to proceed as per the plan. When overheads happen, it is essential to do a root cause analysis and take corrective measures accordingly.