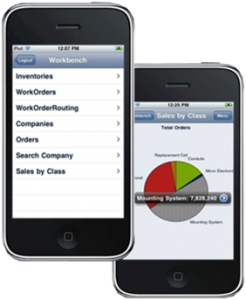 ERP was a revolutionary trend that companies have lapped over time. However providing services anywhere anytime, be it a social application like Whatsapp or a business driving application like ERP, has become a requirement in the modern world. Mobile ERP is all about accessing various services offered by any ERP software through a mobile device such as smartphones or tablets.
There are certain factors which have made mobility in ERP a necessity. One of them is service improvements as in better interaction with customers & existing business applications. Another is better ROI on mobile applications implementation. However, the most important driving force behind this trend is attributable to another parallel growing trend, Mobile Workforce.
While in the US & Europe the trend of mobile workforce caught momentum 3-4 years back, it has recently entered Indian organizations and is catching up fast. Indian mobile workforce is expected to grow by over 50 per cent over the next two years to reach 205 million by 2015, of which about 65 per cent will be equipped with smart mobile devices, according to a latest research report. The concept of traditional office where people would sit at their respective desks logging 8 to 9 hours daily is fast fading away and is being replace by mobile workforce. Every company would need to strategize a roadmap to evolve with mobility.
A report titled 'Moving Towards a Mobile Enterprise – Journey of India Inc.' suggests a four-phase roadmap for companies to embrace mobile enterprise strategy.
Conventional Mobility: Availability of basic apps such as e-mail, messaging, contacts etc.
Always Connected: Real-time communication and collaboration facilities to employees
Pervasive Mobility: Function-specific applications that promote brand image and make internal operations such as finance and human resources more efficient.
Automated Workforce: Critical apps like ERP, CRM and sales-force automation which allows for minimizing paperwork, reducing office visits, improving productivity and achieving higher sales closing ratio.
In a recently conducted survey, it was found that around 46 per cent of the Indian organizations currently provide mobile work-styles for employees & the trend is picking up. Globally too, organizations adopting similar strategies are reaping the rewards of a more flexible, agile workforce, lower employee-related and real estate costs and the ability to attract and retain top talent. It is anticipated that a third of employees will no longer access corporate applications from the local office and would instead be operating from home, field, hotels, airports etc, & the availability of workspaces would be a fifth less by the end of 2020. One of the reports mentions that driven by employee demand, 91 per cent of organizations worldwide shall adopt mobile work styles, enabling its staff to work from anywhere.
Most ERP vendors are already trying to flow in tandem with this rising tide by providing mobile enterprises suites. Below are some scenarios where mobile ERP may impact a business:
A mobile HR solution shall bring direct benefits mainly to the employees. Employees can remotely submit expense claims; manage their holidays, taxes, loans and personal development when they have time. Although the benefits to a company from such an application may not be tangible, but a happier, more engaged staff tends to work more productively.
With mobile SCM solutions production & operations managers can receive alerts real time whenever there are potential problems such as raw materials stuck in transit, or machine breakdowns. Managers can authorize changes to work orders or deliveries while finance applications alerts finance managers of the implications of supply or manufacturing issues straightaway, enabling them to take better decisions. Field service engineers too can have all the information required on products, machines & maintenance records in their hand.
In sales & marketing, while salespeople can get all their customers' information from their mobile CRM application on a go, integration to full ERP may further help sales staff to understand the profitability of a deal through links to finance and manufacturing.
Considering the above scenarios and more, mobile ERP would not only open a real time access of an organization's operations to its staff on the move but over time organizations would also experience lower transaction costs, improved cash flows, improved relations with customers & more importantly satisfied & happy employees.
It may be that a completely mobile application for ERP may not provide as good a solution as a traditional desktop ERP application does. But with changing times, as always, one who would surely stand to benefit the most in the long run would be the one who will dare "Put business in Motion".