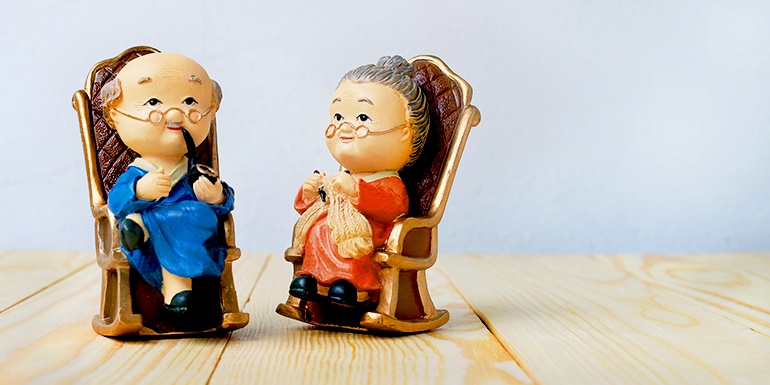 Redefining the 'Elderly' age
As rapid graying of Japan's population continues, a proposal has been made to redefine the 'elderly' age. A group of academic societies has proposed redefining the "elderly" age as 75 or older – and those people in the age bracket of 65 to 74 as 'semi-elderly' who can still actively engage in social activities, including work. According to the proposed definition, the ratio of elderly people will reduce significantly. This is proposed purely on medical grounds such as rapid improvement in health of senior citizens. The increase in the number of active workers and consumers in their old age would be a driving force of economic growth on the supply as well as demand side.
But Japan will face many obstacles while implementing the above proposal. One obstacle is the public pension system because any pension system will naturally make retirement more attractive to older workers. Japan's pension system provides strong incentives for employees to retire or to reduce their working hours. Japan's pension system lowers the pension rate the more you work. Therefore, Japan will also have to reform its pension system.
With increase in mandatory retirement age and seniority based wages unchanged, employers will have to increase their wage bill considerably. Change in "Elderly age" will have huge impact on future of social security and employment systems, which are generally designed to classify those 65 or older as social welfare beneficiaries.
Beginning fiscal 2017, the government may require elderly people with certain levels of income to pay for more for their own medical and nursing care costs. The idea is to get more senior citizens to support the social security system if they can afford to. With all this in place, navigating the frontiers of Payroll Modernization becomes extremely important.
Under the Social Security and Tax Number System, mayors issue an individual number to each and every person holding a resident record who resides in their municipalities. Central government organizations and local governments will use the Individual Numbers to efficiently manage information by tying them to personal information they have on individuals in the areas of social security administration, taxation and disaster response. From a payroll perspective, Residents will be asked to provide their Individual Number on application forms and other documents needed for procedures for the National Pension, Unemployment Insurance, Medical Insurance and tax procedures such as filing of tax returns.
Some Benefits:
It will improve public convenience by reducing the number of accompanying documents needed for administrative procedures related to social security and taxation
It will help design new and better social security schemes through more precise ascertainment of residents' income
Whether you are operating in, or considering entry into the Japanese market, it's essential to understand 'How MY number affects HR and Payroll'.
From a payroll viewpoint, MY Number has a significant impact on services, especially on how year-end payroll or tax adjustment is to be executed. Companies are required to modify their payroll systems and facilities to make sure their employees' data is secure and tightly controlled. For companies hiring payroll service providers, it is necessary to amend service agreements in order to allow them access and use of MY Number when supporting payroll and year-end activities.
It will become easier for municipalities to obtain information related to income of local residents for procedures to distribute child care benefits. This will cut both administrative work and paperwork for applicants.
Japan rethinking its culture of long work hours
Japan is accelerating its drive to convince companies into abandoning a culture of long working hours. Year 2017 will see significant reforms related to overtime hours, working hours and equal pay.
The goal will be towards boosting productivity i.e. best results in best amount of time. This will have an impact on productivity, pay scale of employees and overtime earnings.
The ministry of Economy, Trade and Industry and some business groups will launch a new campaign called Premium Friday, in February, in which workers will be encouraged to leave at 3 p.m. on the last Friday of each month. The government hopes the initiative will encourage workers to enjoy activities such as shopping, dining and travelling, thus giving economy a boost. This campaign will be launched first in 'Tokyo' and then in other parts of Japan.
Abandoning "long working hours" will have an effect on Pay Structure of employees, Overtime Pay and working culture. It may also affect leave policies in Japan.
In short, Japan may undergo various changes related to social security, working and overtime policies. MY Number will automate many processes and helps in efficient management of information. Increase in elderly age and reduction of long work hours will have significant effect on social security, working hours and leave provisions. It will also affect production strategies and japan may have to use strategies involving effective utilization of human resources.
The efficiency and adaptability of Ramco HR and Payroll will ensure the client will not face any discomfort while these changes happen in the system. Additionally, Ramco has partnered with various consultancy firms for providing statutory updates in real time which keeps our product statutorily compliant and fresh. We are on the forefront in analyzing all these changes and its impact on HR and Payroll.
We at Ramco ensure to provide the latest HR Technology such as Bots, AI, Employee Sentiment Analysis & more. Recently, Ramco marked its footprint in Japanese Market and is ready for addressing the local HR & Payroll needs. Trusted by 400+ global customers, Ramco HCM & Global Payroll with Time & Attendance is compliant with statutory and taxes across 40+ countries on a single platform and has partnership to cover Payroll for 108 countries, globally. Interested to know more, write to us
Contact Us for Global Payroll