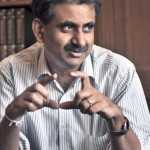 The following interview has been referenced from Hindu Business Line. Ramco Systems CEO & MD, Mr P.R Venketrama Raja is in conversation with Rasheeda Bhagat. In this interview, he discusses the issues ranging from ERP to shortage of farm labour. Below is the story...
Though a comparatively smaller player in IT product services, Ramco Systems, part of the $875-million Ramco group, has recently come out with a powerful new product — Ramco OnDemand ERP — that promises to provide an Internet-based enterprise solution software to companies, that is "simple, powerful, easy and less expensive", says Mr P. R. Venketrama Raja, Vice-Chairman, Managing Director and Chief Executive Officer, Ramco Systems.

Here are some excerpts from the interview:
Q: A core area of Ramco Systems is innovation; how is your latest product, Ramco OnDemand ERP, doing and how will it help the company's bottomline?
A: Our focus has always been innovation… how to create systems to solve business problems. Despite competing with the US and German companies that have a dominant mind share of people in the enterprise solutions space, we've been able to come up with innovative technology and powerful architecture.
Now, we're succeeding in two or three areas, apart from the general ERP (enterprise resource planning) area.
One of the platforms we've created is enterprise solutions on the cloud, which we call Ramco OnDemand ERP.
This is a Web-based pay for use solution.
Q: How does it help a user?
A: Today, the enterprise solution software that companies use is very large, cumbersome and expensive. We're trying to make it simple, powerful, easy and less expensive and change it from investment-intensive and complex product to a very simple one.
We put the solution on the Internet, so people don't have to buy hardware and software. Unlike conventional onsite ERPs which require a lot of investment in IT infrastructure and manpower, Ramco OnDemand requires no initial IT investments.
All you need is an Internet connection and what earlier took months can be done in weeks. This product gives end-to-end solutions to big or small subscribers to run their operations without worrying about software, hardware or an IT department.
Q: What is its scope?
A:It has been launched and we are growing rapidly — at 40 per cent a quarter and we hope to keep that pace. If that continues, we'll be a dominant force and change the economics of enterprise solutions.
Q: Who are your major clients?
A: In normal ERP, DLF and Air India; in the cloud or Internet ERP, we now have bigger companies such as Birla Tyres. We closed this quarter with about 50 customers; we expect it to go up to 70 by next quarter.
For listed companies such as yours, profits are very important. So when will profits start flowing in?
The business model is such that you need to have a certain number of companies or clients before you start making good money. We'll see profits in three-five quarters.
Q: Going forward, what are the challenges for your company?
A: The basic challenge is that India is not known for product innovation, but we are trying to create a brand in this area.
People find it difficult to believe that with a much smaller workforce — 1,500 people — we can match the complexity and product depth of larger companies.
But we can do so because of the innovation of our architecture in which we've invested over the last 10 years. That allows us to create new products and move rapidly.
Q: Is global recession over or is worse yet to come?
A: I think the worst is yet to come. Energy prices are going up drastically, not that new jobs are being created and inflation is high. There are no new big ideas for the western economies to change. Unfortunately, over the years, they have moved away their jobs to other parts of the world.
Q: Is this bound to affect India?
A: It will, but at least over the next 10 years or so, as the middle class grows, it will act as the local engine to drive growth. But rising energy prices will affect us badly. The world is in transition and moving away from fossil to alternative fuels, but to get a significant effect will take at least 10 years.
Q: Will the turmoil in Tunisia and Egypt affect us? We also have a young and volatile educated population that is not able to find good jobs.…
A: I'd say our young, educated force is quite well employed. It is very difficult to find people for employment even in our factories. (The Ramco group is inTO cement, textiles, steel, printing, etc.)
But farmers' children… young educated people from rural India.. can't find jobs.
That's what you think, but we have many of our factories in villages and we are not able to find labour.
Q: That is good news. So you think India's economy has the potential to absorb more workers?
A: Give me workers; I'll take them tomorrow…
Q: Where and what kind of work?
A:In factories… our manufacturing businesses. We need normal semi-skilled workers that factories employ, paying Rs 200-300 a day.
Those we get come only 70-80 per cent of the time. They are quite happy with various government schemes where they don't even need to work.
From that point of view, I find it ironical that while there is abject poverty and unemployment in some areas, you can't find enough people FOR the jobs that are there in the field.
Q: What about agriculture?
A: In agriculture too, they are demanding Rs 200-250 a day; so that is not cheap either.
Q: Who pays that kind of wage in agriculture?
A: You please try to get me (farm) labour for anything less than Rs 200. We are all cut off from what is happening in rural areas… I don't know about the rest of India, but in Tamil Nadu, this is the scene.
Reference to the online article:
http://www.thehindubusinessline.com/opinion/columns/rasheeda-bhagat/article1458611.ece?homepage=true