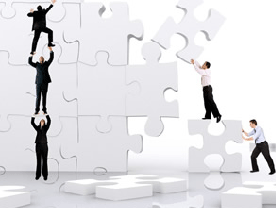 In the beginning, any organization comes up with a set of business processes that ensures they stick to the right path and achieve their goals. As the company matures and expands, these business processes will have to be altered to suit current day needs of the business.
The concept of business process re-engineering (BPR) evolved along with the Enterprise Resource Planning (ERP) in the early '90s. Similar to ERP, business process re-engineering related to the radical redesign of any organization in a relatively lesser time period and is primarily intended to optimize the process workflow and improvise productivity.
Before one dives into the details, it would be a good idea to introduce the concept of BPR. BPR is a process through which an organization completely revamps it structure, business process workflow, job roles, performance measurement and adoption of information technology. This could be based on the change in strategic vision of the company to automate its processes completely or a possible merger or when some other corporation acquires the company.
Re-engineering existing business processes can include any of the following steps.
Preparing a project plan documentation that contains the goals, step-by-step methodology, stakeholders involved and timelines.
Defining the organization's roadmap to provide a clear picture of desired future position.
Defining project behavior that will enable the stakeholders to achieve their goals.
Identifying key performance indicators and measurement tools to track progress.
Essential training programs to educate the employees and other stakeholders about the new processes and manage change throughout the organization.
A successful BPR implementation brings about a marked improvement in productivity, customer service and bottom-line functioning. Like every other project, there are possible risks involved in BPR like reluctance of employees to change, pressure from competition and public, project overheads etc.
To be successful, BPR needs to be on the top of things, taking into account complete end-to-end processes. Besides this, it needs to be supported by relevant tools that make processes easy to track and analyze.