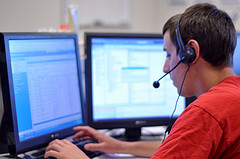 With the advent of cloud computing, virtualization and related technologies, businesses are increasingly facing the needs for adaptability and dynamic systems. This means that traditional ways of IT support are changing as well. As businesses become more agile and dynamic, support needs to keep pace. This article argues about the need to switch to hosted support, and how it can benefit the enterprise.
Staying flexible: Modern businesses are moving more and more toward flexibility. Could computing allows you to scale up services and storage flexibly, while virtualization provides flexibility of infrastructure. Having a dedicated IT team for troubleshooting is a good idea, but there are practical limits to the continuity of support. With traditional ways of support, round-the-clock support becomes difficult to maintain.
Going mobile: As mobile devices become more capable and portable, organizations are seeing them take over the traditional productivity devices. This means that going forward, more and more employees will be on the move or working from remote locations, which calls for the strong need of remote support. Moreover, troubleshooting these newer devices would require having to train the IT support staff over the year.
Budget concerns: Traditional methods of support incur a lot of overhead costs, involving expenditure for calls, equipment change, trainings, and so on. By contrast, remote support can be a fast and economical method of reliable troubleshooting.
There are many benefits of switching to hosted support, and businesses experiencing support constraints should look at the option seriously.
Image source: http://www.flickr.com/photos/tyle_r