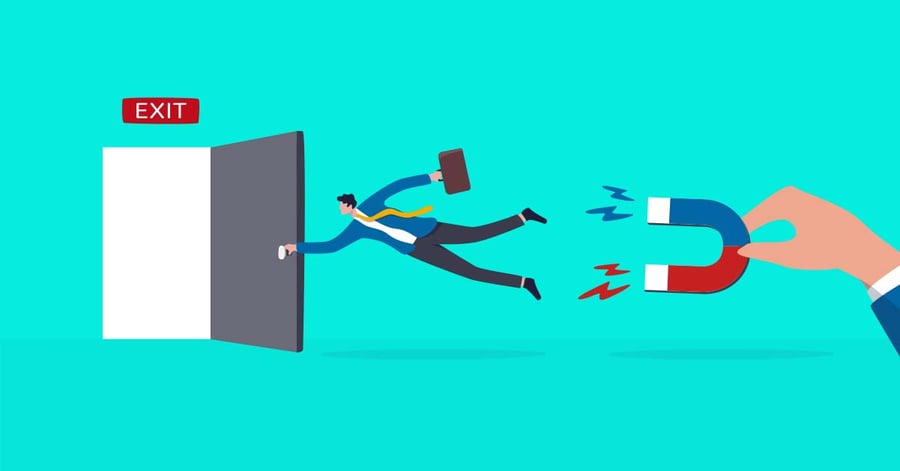 When a company loses trained, productive people who understand their job function and perform it well, productivity is affected. A recent reminder is the great resignation that took place since the outbreak of the pandemic. Employees left their jobs in record numbers.
Promoting work-life balance is one way through which companies can keep employees happy. Developing a synergy between work and life is more essential today than ever.
Let's take a closer look at the issue of resignation and how technology can help.
Why do employees leave their jobs?
Several surveys done on global workers say that pay cuts and toxic work culture remain the main reasons that made employees say, "I quit". In addition, sudden changes brought in by factors like the pandemic such as shifting to remote working, technical gaps in remote working, unmanaged workload and lack of face-to-face interactions resulted in employees feeling stressed and burnt out. The lack of career development opportunities, the importance of feeling valued and the realisation of work-life balance has been the driving force, making people quit their jobs now more than ever.
Recent learnings
The abrupt changes in the working conditions called for complex challenges for both employers and employees alike. As for employers, while lack of talent retention has been their greatest concern, recruiting talent to fill in the empty job roles has been their biggest challenge.
With the newly introduced hybrid working structure, managers have been finding it hard to provide the employees with personalized services in areas of engagement, career aspirations, learning and development. In addition, the use of outdated technologies, manual entries, lack of integrations between HR Tech systems has negatively impacted their productivity, thus restricting them from focusing on crucial employee concerns.
The Need of the Hour
The need of the hour is having a technologically advanced HR & Payroll system along with having a seamless integration between the two. With the help of emerging new age technologies, most of the operational activities can now be automated, which frees up a significant amount of time for HR & payroll professionals. The inbuilt artificial intelligence and machine learning algorithms brings an additional layer of intelligence & significantly increases an organisation's ability to process and analyse employee data. Let's look at in detail in following sections.
How can technology help?
Technology can help by:
With the automation of manual tasks, managers can invest their time and efforts into improving employee engagement, communication, learning and development strategies. This would help increase job satisfaction, ensuring a higher talent retention rate.
Providing accurate and timely results
Incorrect time assessment leading to overwork and pay cuts can be a great challenge for employees and managers. The automated time and attendance tracking tool allows flexible time tracking of your employees and captures the time spent at work. Based on this data, payroll managers can automate pay checks on exact time and date using the Digital Payroll system. Timely and accurate management of payroll services is crucial in ensuring employee job satisfaction. This also saves the manager's time in tracking incorrect pay checks.
Giving data-driven insights
The data-driven HR analytics powered by AI helps you analyse and visualize employee performance. This will allow managers to plan their long-term growth and build a healthy workplace culture. With real-time data in hand, managers can track the issues faced by employees, predict burn out rates and take timely actions to resolve them.
The technology works wonders when it comes to efficient management of business processes. However, you should ensure that your company is equipped with the right tools that your employees can use. Rather than lamenting over the losses, now is the time for business leaders to leverage technology to redefine productivity at the workplace. The key here is to cater to the genuine needs of employees and treat them well. It is always better late than never.
Contact Us for Global Payroll