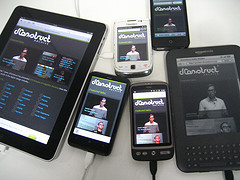 The tightening IT budgets and turbulently rapid technological changes are making enterprises rethink the strategy to invest in equipment infrastructure. This has led to the emergence of a radical new idea – Bring Your Own Device (BYOD). The concept has gained much traction in recent times, but the real question is whether businesses know what they are getting into.
The idea is as simple as it is tempting: most of the corporate employees already own the latest high-end devices which they carry to work for personal use. All this represents a mobile and highly efficient infrastructure that can be tapped into. But the different aspects of BYOD should be considered in depth before a decision is reached.
Advantages of BYOD
The most convincing advantage is reduction in cost and time. If employees bring their own devices, companies need not invest in large-scale purchases of hardware and maintain a team to upgrade them. At the same time, employees will know how to troubleshoot their own device and this would mean faster problem resolution and improved efficiency. Most collaboration software are also available across different platforms, so workflow will not be impacted.
Risks in BYOD
There are also some serious arguments against BYOD. If companies allow employees to move around with data in their personal devices, security is being put at a grave risk. Also, not all devices might be fully compliant or have enough processing power. Employees might not even want to mix personal data with official work.
Perhaps the best way would be somewhere in the middle, but even that seems to involve many complications. In any case, BYOD remains a daring and interesting proposition that smaller enterprises may seriously consider.