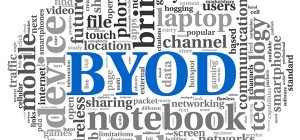 Many IT companies are encouraging BYOD (bring your own device) to work. According to an industry survey, firms feel that with techniques like desktop virtualization their earlier concerns like data theft and network problems have been addressed and therefore they are adopting the idea of employees bringing their own devices to work.
Employees are turning to BYOD because they want more control of their work experience, leading to more productivity and job satisfaction. They want to work on the device with which they are most comfortable.
The new generation employees are using all kinds of devices, including smart phones and tablets. The smart phone penetration is becoming very popular. BYOD is a global phenomenon; it is not simply about device usage, but freedom and innovation. It empowers employees to innovate using the tools which they like, how and when they want to work. The proliferation of these mobile devices in companies is a fact of life, and this means IT needs to change the way it manages devices. This growth in mobility affects data security, access control, platform maintenance, application support, and much more.
Blog by: Gurjeev Singh Bagga, Business Consultant, Ramco Systems