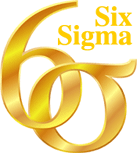 Many leading organizations have implemented ERP systems as part of their six-sigma initiatives or lean manufacturing or other business transformation projects. Below mentioned are some definite methods through which an ERP system can help organizations adapt six sigma quality standards.
Data accuracy & consistency – Six sigma is all about quantification to the maximum. Data aids quantification and for gathering accurate data and maintaining process consistency, measurements at every step is vital. Well planned ERP projects strive to establish post-live ERP performance as against the measured current baseline operational performance. This comparison holds the key to an effective ERP benefits realization at a later stage.
Waste reduction – ERP vendors help companies to improve their business processes through identifying relevant opportunities in every process. The usual methodology is through reduction of waste and minimizing the redundant steps across various processes. This falls in line with the six-sigma mandate of reducing wastes and improving the overall performance.
Project Methodology – According to six sigma practices, there are 2 methodologies through which an organization can implement its projects - DMAIC (Define, Measure, Analyze, Improve, Control) and DMADV (Define, Measure, Analyze, Design optimization, Verify). By implementing ERP system, the organization by default adapts to the methodologies. ERP system implementation insists on defining the requirements, measuring the processes, analyzing data, improving the processes based on data, controlling the variables effectively to get desired output and verifying it appropriately.
When ERP is part of a six sigma initiative, it is imperative that lean process starts right from software selection, continues throughout the implementation till the time the ERP is live. An ERP system will prove to be an outstanding enabler of six sigma when everything is planned well in advance with the help of experts.