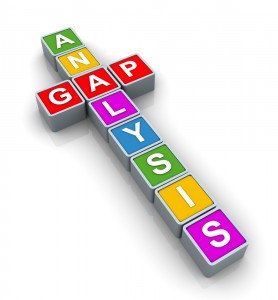 At some point during a business's life, it may choose to incorporate an ERP system into its arsenal. When this happens there are always wide arrays of changes that need to take place. In order to ensure that the business reaches the full potential of the ERP system, a GAP analysis can be done. A business that does not use a GAP analysis is essentially running blind, as even the best users will not be able to fully implement the benefits the ERP system. Without the analysis, the business cannot properly forecast the changes that will take place, as even the best operators will not be able to fully implement the added benefits of the system. In doing so, they can realize all of the opportunities that exist once the ERP is implemented. It is similar to a test run, but done on paper.
GAP Analysis for Better ERP Implementation
Gap Analysis in ERP Implementation Process
Steps to Start the GAP analysis
1. Involves painting a picture of the current work flow, which involves all of the positives of the organization in addition to the flaws.
2. Next, it will need to recreate the workflow as if everything was under one roof. This is done to make sure that everything will continue to run smoothly after the ERP system is fully implemented and that there are no surprises down the road.
3. The errors will also need to be worked out at this time. Common issues to look for involve areas of redundancy that waste time and money.
4. By making small changes to the ERP system during this process, the kinks can be worked out to ensure that it is as efficient as possible.
The Outputs of Gap Analysis:
1. The GAP analysis will provide a complete overview of the ERP system.
2. It will tell the organization or business just how effective implementing the new system will actually be. It is a customized approach, as the ERP system will match the needs of the company preciously, maximizing the efficiency of the system.
3. Keep in mind the ramifications of the process, as in some instances users may discover that the ERP is not actually worth the time to implement.
Even still, by completing the GAP analysis, upper officials within the organization can determine the most viable solutions to the company's needs. Considering the costs involved with putting together an ERP system, running a GAP analysis prior to doing so is well worth both the time and energy involved.