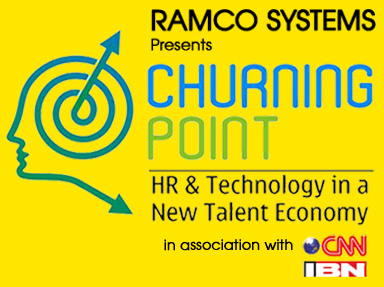 If there is one thing that every Ramcoite is talking about for the past few weeks, it would be "The Churning Point"; an event that we are organizing along with Network 18, where the world of HR and Technology come together to analyze one's impact on the other. The best of minds - including Mr. S Y Siddiqui, Chief Operating Officer, Maruti Suzuki India Ltd, Mr. Sameer Wadhawan, Vice President – HR, Coca Cola India & South West Asia, Mr. Hitesh Oberoi, Managing Director & Chief Executive Officer, Naukri.com, Mr. P.V. Venkatesan, HR Director, ManpowerGroup, Mr. Ajit Singh, Executive Vice President – HR, Network 18 Media & Investments Ltd and Mr. P. R. Venketrama Raja, Vice Chairman, Ramco Group, are coming together at the Leela Palace, New Delhi this evening to debate on the topic "HR and Technology in a New Talent Economy".
For long, HR personnel have been executors and mundane transactions had become a part of their work life. A solution to this was becoming more than necessary and that's where technology now comes to play in the form of Ramco HCM. All credits to its comprehensiveness, making it a one stop shop for everything related to HR. The analytics it is built with helps the HR personnel get a view of what's going on, in a glimpse, with a pinch of transactions that they are used to too. The super-fast in memory engine makes them kiss goodbye to the long waiting hours of payroll process. In short, Ramco HCM makes sure, they are not executors anymore and that they are strategists. It is time to welcome the changes and the opportunities that technology offers to HR today. With Technology looking up and asking like CREED (the band) does, "Are you ready? For what's to come...", such a gathering becomes a need of the day.
Welcome to Churning Point... Get ready for what's to COME…
Click http://www.youtube.com/watch?v=UR6-yUqvwtM to view a short video of where Ramco HCM is coming from.