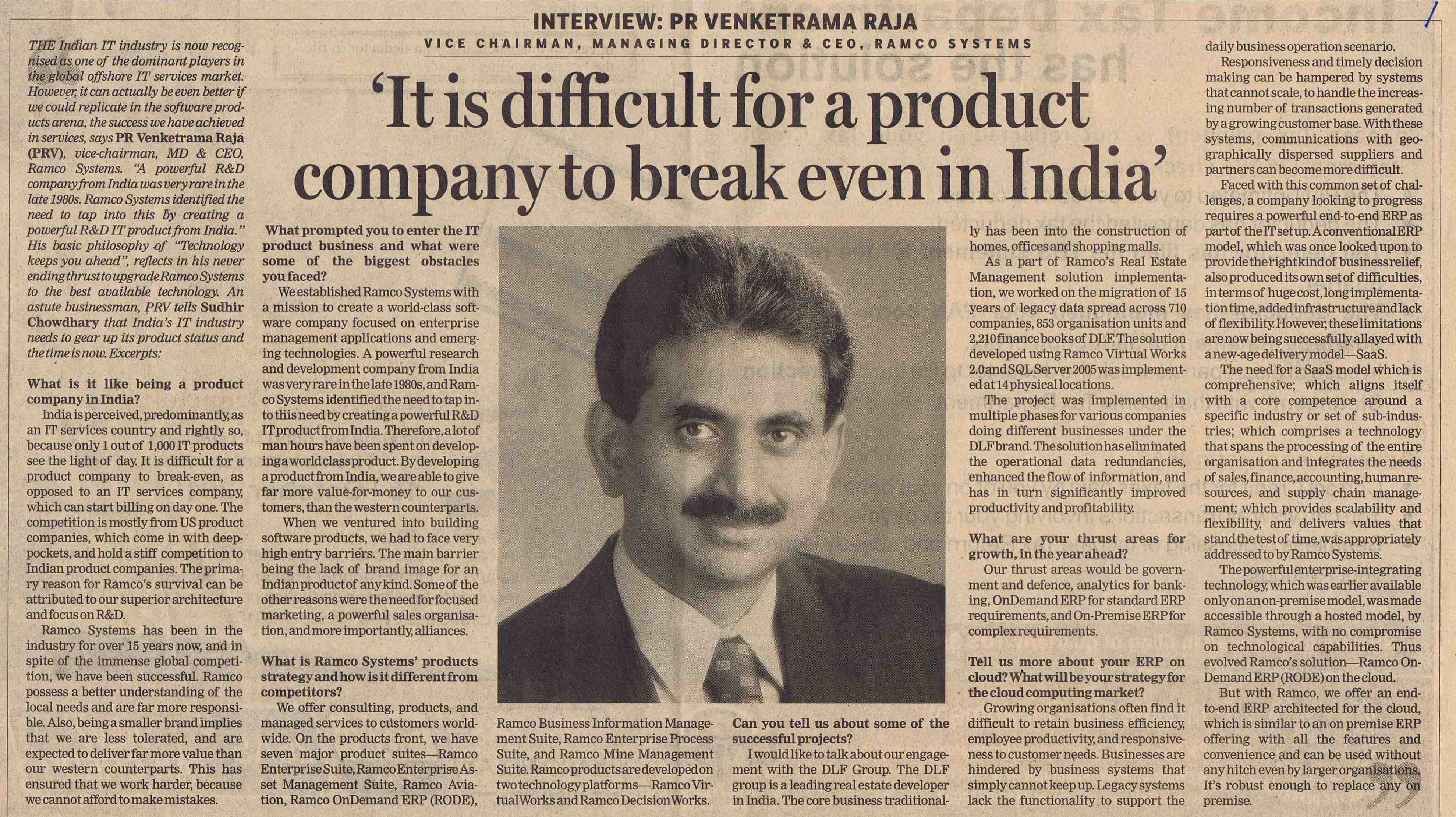 In a recent interview with The Financial Express, our CEO, Managing Director and Vice Chairman, PR Venketrama Raja  shares his views on what it will take the Indian IT industry to further excel and how Ramco Systems journeyed its way to where it is today. Read on to see what he has said...
The Indian IT industry is now recognised as one of the dominant players in the global offshore IT services market. However, it can actually be even better if we could replicate in the software products arena, the success we have achieved in services, says PR Venketrama Raja (PRV), Vice-Chairman, MD & CEO, Ramco Systems. "A powerful R&D company from India was very rare in the late 1980s. Ramco Systems identified the need to tap into this by creating a powerful R&D IT product from India." His basic philosophy of "Technology keeps you ahead", reflects in his never ending thrust to upgrade Ramco Systems to the best available technology. An astute businessman, PRV tells Sudhir Chowdhary that India's IT industry needs to gear up its product status and the time is now. Excerpts:
What is it like being a product company in India?
India is perceived, predominantly, as an IT services country and rightly so, because only 1 out of 1,000 IT products see the light of day. It is difficult for a product company to break-even, as opposed to an IT services company, which can start billing on day one. The competition is mostly from US product companies, which come in with deep-pockets, and hold a stiff competition to Indian product companies. The primary reason for Ramco's survival can be attributed to our superior architecture and focus on R&D.
Ramco Systems has been in the industry for over 15 years now, and in spite of the immense global competition, we have been successful. Ramco possess a better understanding of the local needs and are far more responsible. Also, being a smaller brand implies that we are less tolerated, and are expected to deliver far more value than our western counterparts. This has ensured that we work harder, because we cannot afford to make mistakes.
What prompted you to enter the IT product business and what were some of the biggest obstacles you faced?
We established Ramco Systems with a mission to create a world-class software company focused on enterprise management applications and emerging technologies. A powerful research and development company from India was very rare in the late 1980s, and Ramco Systems identified the need to tap into this need by creating a powerful R&D IT product from India. Therefore, a lot of man hours have been spent on developing a world class product. By developing a product from India, we are able to give far more value-for-money to our customers, than the western counterparts.
When we ventured into building software products, we had to face very high entry barriers. The main barrier being the lack of brand image for an Indian product of any kind. Some of the other reasons were the need for focused marketing, a powerful sales organisation, and more importantly, alliances.
What is Ramco Systems' products strategy and how is it different from competitors?
We offer consulting, products, and managed services to customers worldwide. On the products front, we have seven major product suites—Ramco Enterprise Suite, Ramco Enterprise Asset Management Suite, Ramco Aviation, Ramco OnDemand ERP (RODE), Ramco Business Information Management Suite, Ramco Enterprise Process Suite, and Ramco Mine Management Suite. Ramco products are developed on two technology platforms— Ramco VirtualWorks and Ramco DecisionWorks.
Can you tell us about some of the successful projects?
I would like to talk about our engagement with the DLF Group. The DLF group is a leading real estate developer in India. The core business traditionally has been into the construction of homes, offices and shopping malls.
As a part of Ramco's Real Estate Management solution implementation, we worked on the migration of 15 years of legacy data spread across 710 companies, 853 organisation units and 2,210 finance books of DLF. The solution developed using Ramco Virtual Works 2.0 and SQL Server 2005 was implemented at 14 physical locations.
The project was implemented in multiple phases for various companies doing different businesses under the DLF brand. The solution has eliminated the operational data redundancies, enhanced the flow of information, and has in turn significantly improved productivity and profitability.
What are your thrust areas for growth, in the year ahead?
Our thrust areas would be government and defence, analytics for banking, OnDemand ERP for standard ERP requirements, and On-Premise ERP for complex requirements.
Tell us more about your ERP on cloud? What will be your strategy for the cloud computing market?

Growing organisations often find it difficult to retain business efficiency, employee productivity, and responsiveness to customer needs. Businesses are hindered by business systems that simply cannot keep up. Legacy systems lack the functionality to support the daily business operation scenario.
Responsiveness and timely decision making can be hampered by systems that cannot scale, to handle the increasing number of transactions generated by a growing customer base. With these systems, communications with geographically dispersed suppliers and partners can become more difficult.
Faced with this common set of challenges, a company looking to progress requires a powerful end-to-end ERP as part of the IT set up. A conventional ERP model, which was once looked upon to provide the right kind of business relief, also produced its own set of difficulties, in terms of huge cost, long implementation time, added infrastructure and lack of flexibility. However, these limitations are now being successfully allayed with a new-age delivery model—SaaS.
The need for a SaaS model which is comprehensive; which aligns itself with a core competence around a specific industry or set of sub-industries; which comprises a technology that spans the processing of the entire organisation and integrates the needs of sales, finance, accounting, human resources, and supply chain management; which provides scalability and flexibility, and delivers values that stand the test of time, was appropriately addressed to by Ramco Systems.
The powerful enterprise-integrating technology, which was earlier available only on an on-premise model, was made accessible through a hosted model, by Ramco Systems, with no compromise on technological capabilities. Thus evolved Ramco's solution—Ramco OnDemand ERP (RODE) on the cloud.
But with Ramco, we offer an end-to-end ERP architected for the cloud, which is similar to an on premise ERP offering with all the features and convenience and can be used without any hitch even by larger organisations. It's robust enough to replace any on premise.
Source: Financial Express
Dated: 11th Oct 2010