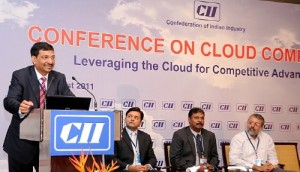 The Confederation of Indian Industry (CII), Chennai Zone organized its 2nd edition of "Conference on Cloud Computing – Leveraging the Cloud for Competitive Advantage" last week. With IT already identified as a key business enabler, organizations have started believing that cloud computing can provide them competitive advantage through helping them transform their business model.
The first edition of the conference which was held last year, focused on demystifying the cloud and other fundamental concepts around cloud computing. The 2nd edition held at the Hotel Taj Coromandel, Chennai, last week focused on differentiating Cloud vs. Hosting models, Test drives, Showcase of cloud apps, Customer on Cloud and potential Security Issues that could arise in Cloud based applications.
Delivering the keynote address on 'Leveraging the Cloud for Competitive Advantage' Mr.Arun Jain, Chairman and CEO of Polaris Software Lab said it is important to understand how to make the best of the features of Cloud computing rather than analyzing deeply on the applications or the technicalities. Mr. N.K.Ranganath - Chairman, CII Tamil Nadu and Managing Director, Grundfos Pumps provided an insight on the advantages of Cloud computing- the flexibility and competitive edge it provides to the business. Welcoming the delegates, Mr. Anand Sundaresan, Chairman, CII, Chennai Zone said that the cloud represents a major change in how computing resources are utilized, so it's not surprising that IT professionals have concerns about the risks versus rewards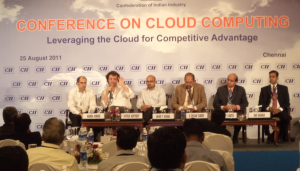 The highlight of the day was the presentation by Mr. G.S. Raju, MD Sujana Metals. He explained how their business lacked integration initially with individual departments handling their operations with their own tools. With minimal IT staff, that too working on a part-time basis, they chose to opt for cloud based ERP package to integrate and run their operations more efficiently, without the need to worry about maintenance and support of IT systems. Post Implementation Sujana Metal's culture changed from being reactive (in the past) to proactive at present, and data consolidation across units became easier with no time wastage in Reconciliation. It is an apt endorsement for efforts made by Ramco Systems in the cloud space.
Duggal Associates mentioned about legal ramifications and the speaker said that India doesn't have a separate law for the cloud and the IT act had to be stretched.
The CII has also joined hands with the Ministry of Micro, Small and Medium enterprises (MSME), Government of India to come out with a survey that analyzes the IT needs of MSMEs. Experts believe that it would provide inputs for formulating cost effective and efficient scheme to facilitate IT adoption by MSMEs.
Mr. Vinod Krishnan, co-convenor, IT, ITeS & Electronics Panel delivered the concluding remarks at the Inaugural Session.
The conference was well received by participation from IT and business enterprises.