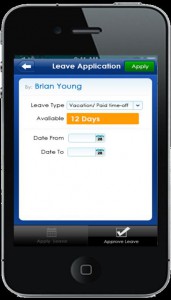 There have been several interesting reactions to Ramco's mobile leave application. We tried Ramco HCM Suite's leave application feature with several users internally and we have seen some amusing reactions as well:
- Users get a little perplexed that there are just 3 fields in the screen.
- They pause before hitting 'Apply' and check for any links or scrolls.
- They hit 'Apply' and are surprised that the application goes through without any further information!
At the end of the process, the users realize that this is all they require to apply for a leave. They also realize that they are filling more than this in their current application.
Software of yesteryears has made us expect details after details for even the simplest transactions that we carry out. Perhaps, there's nothing wrong with that. But, when there is just one way of doing things, it becomes cumbersome, especially with the most frequent of tasks.
We at Ramco believe in simplicity and have decided to keep our mobile leave application simple, so that a user does not spend considerable time filling details over a small screen space. We want to ensure that leave applications is not what keeps a user away from doing what is more important to them,
And we are glad that people who have seen it, like it. You will see us saving a lot of time for you!
Blog by: Shankar Bharathan, Principal Consultant, Ramco Systems