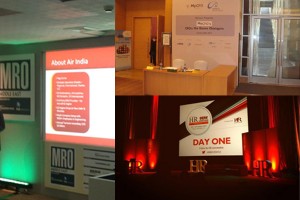 This past week has been quite a phenomenal one for us at Ramco, as we've been part of some major events worldwide. Right from Mumbai to Dubai, Ramco has successfully left its trail and we've been able to make a lasting impression on some of the industry's biggest names!
MRO Middle-East 2013
We started off our week with at the Dubai World Trade Centre, UAE with the 'MRO Middle-East 2013'. IOpened by the President of Dubai Civil Aviation Authority, Chairman of Dubai Airports, Chairman and CEO of Emirates Airline & Group Chairman of Emirates, Sheikh Ahmed bin Saeed Al Maktoum, the event posed an excellent opportunity for our GM , Mr. Dheeraj Mathur to brief Sheikh Ahmed on the new agreement that we signed with Emirates. Arabian Aerospace, a leading online news service in the Aviation sector, carried an article on Ramco's latest achievement - http://www.arabianaerospace.aero/aime-mro-ramco-systems-signs-master-supply-agreement-with-emirates.html.
Also, Mr. Rajiv Saxena, Senior Engineer (SS-Technical) in Production, Planning and Control Division (PPC) at Air India Ltd. presented his speech on 'Material Planning from an MRO perspective'. He talked about how it was modeled using Ramco Aviation Solution and how contracts have been incorporated to facilitate seamless workflow and job costing/ invoicing from customer perspective. With 226 exhibitors, 100 airlines, 3000+ visitors from over 70 countries and prominent people in the Aviation sector attending the event, it was an awesome opportunity for Ramco to make its mark.
HR Summit
From Dubai, it was a jump to Birmingham, UK, where we played the role of the Exhibitor Sponsor at the '11th Annual HR Directors Business 2013'—the largest and most senior meeting for the HR community—held on the 22nd and 23rd of this month. With speakers from GE, Vodafone, Ernst & Young, KPMG, DHL, Deutsche Bank and many more, the event was a hub for HR people who wanted to learn and grow.
A must-attend for HR Directors looking to make a real impact on their organizations, the event had Senior Consultant, Mr. Niraj Pradhan representing Ramco. The event included:
Streamed sessions with in-depth presentations
Case studies from experts, detailing practical advice and best practice for all Human Resource professionals
Pre-scheduled, one-to-one meetings, maximizing networking opportunities
Exhibitions that helped identify the latest technologies to support the HR function
CFO's the Game Changers
Simultaneously, while building our network at the HR event, we also made our presence felt at 'MyCFO's - CFO's the Game Changers' and we are proud to say that we were the title sponsors for the event. The event was a congregation of some of the best CEOs and CFOs, who have successfully led their companies to growth and prosperity. The conference presented the CXOs of High Growth Companies with an opportunity to engage, interact, get inspired and share their personal experiences of how they lead their Finance and IT teams to align with their business goals. Panels of top level executives spoke on various topics like:
'CFO and CIO: Friends or Foe; How can one get ERP implementations right?' Mr. Arun Gupta (CIO Cipla), Mr. Bharat Singh (CFO RedBus), Mr. Sebastian Joseph (CTO DDB Mudra Group) and moderated by Mr.Virender Aggarwal, CEO of Ramco Systems
' CFO's role in communicating with investors and stakeholders' Mr. G. Subramanian (CFO Hathway Cables), Mr. N. Rajasekar (CFO Shantha Biotech), Mr. Kapil Krishan (Ex-CFO India Infoline)
The event was a grand success and threw light on some of the major trending topics in this area.
All in all—a very eventful and fruitful week for us at Ramco as it helped us develop our network and march ahead into the global arena.