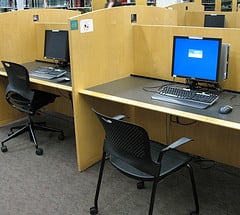 With many robust could computing applications being available for offices, there is no need to stay restricted to a single machine and proprietary file formats. The new wave in hosted solutions has given rise to many free cloud-based office suites, which is what we recommend here if you want to collaborate in real time and carry all your data with you:
Google Docs: Of course the pioneer of online office suites was Google. Google Docs comes with a full set of office applications—word processer, spreadsheet editor, presentations, drawing, etc.—and has some really impressive features for document collaboration. Of course it helps if you have a Gmail account also, because then the work flows seamlessly.
Zoho Docs: There's a good chance you've heard of this application suite, or maybe even used it. Zoho made its entry into the market poised as an elegant suite with an interface resembling the conventional proprietary software. This means there is no learning curve at all, and unlike Google Docs, it supports a directory view, bringing it closer to physical storage.
Team Lab: Team Lab also recently came up with a services bundle for office applications. They have some highly recommended products for project management, and the apps in general are versatile and fast. The interface is also similar to the conventional ones, so getting up to speed will not take any effort.
The best thing about all these services is that they are free of charge. Some of them come with an option to buy an upgrade, but for most users and small businesses, these are more than enough.
Image Source: http://www.flickr.com/photos/osuvalleylibrary