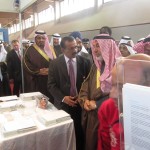 Kuwait's premier IT and communication fest, Infobiz trade show kick started recently and we at Ramco feel happy to be a part of it. It would provide us an opportunity to get in touch with the ministries, local industries and various other enterprises. The show is being held under the patronage of His Highness Sheikh Nasser AlـMohammed AlـAhmed AlـSabah, the Prime Minister of the State of Kuwait.
The 5 day event was inaugurated on 30th Jan, 2011 and would have its limelight on integrating wireless technologies into the enterprise and vertical business markets such as healthcare, government, automotive, retail etc. The tradeshow is also geared up to answer the key issues faced by industries today including privacy, security and information management.
Ramco would be showcasing solutions for Discrete manufacturing , Process manufacturing, HR and Payroll, Fleet management, Government, Logistics and Banking analytics in the tradeshow. H.E. Dr. Mohammad Mohsin Al Busair, Minister of Communications , Kuwait visited our exhibition booth.
For more information, click here