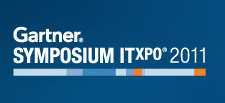 Gartner Inc.'s first ever flagship conference in India, Gartner Symposium/IT Expo will be held in Mumbai from 21 to 23 November 2011.
Gartner Symposium/IT Expo aims to deliver insights, tools and relationships that are essential for creating, validating and executing technological strategies that are focused on transforming present day businesses. More than 500 CIOs, IT leaders, Gartner analysts and technology solution providers are expected to participate in the conference to discuss and gain insights on emerging technologies like business intelligence, mobility, content-aware computing, social media, cloud computing etc.
Commenting about the event, Mr. Partha Iyengar, Vice President at Gartner and Conference Chair for the Gartner Symposium/IT Expo said,
"The continued emergence of disruptive technologies and their disproportionate impact on enterprises across industries has given IT a seat at the strategy table—offering a new context for an organization's infrastructure, investment, innovation and growth. As a CIO and senior IT leader, your success depends on identifying and leveraging appropriate technologies for business benefit and differentiation—and knowing how to broaden the impact of IT's overall contribution to cost management, operational excellence, enterprise growth and competitive advantage."
Ramco Systems will participate as a platinum sponsor and Mr. R. Shankar, Executive Vice President, Ramco Systems, will address the delegates on "Exciting Possibilities on the Cloud: Showcasing Actual Results from Business". In addition, Ramco will be showcasing IT products and solutions at the event expo.
Speaking about Ramco's address in the symposium, Mr. R. Shankar says,
"For both existing ERP users and first-time buyers, a new ecosystem is taking shape. Today, cloud-based ERP and Analytics can seamlessly co-exist, integrate and interface with your existing systems, thereby enhancing business value. We turn the spotlight onto the exciting possibilities on the cloud through end-user case studies and customer feedback. Ramco has been a global forerunner in offering enterprise–class solutions on the cloud. The symposium provides an excellent forum for us to showcase results that our customers have experienced on the Cloud."
Four role-based tracks, along with a special program specifically meant for CIO's to discuss on issues and measures, will drive the agenda through 70 sessions, workshops, how-to-clinics, roundtables etc. Delegates can also book one-on-one meetings with Gartner analysts to discuss specific challenges.
Peer interaction, expert views and independent conversations are expected stimulate the thought process of participants. Hopefully, it will enable them to work out an action plan and execute it in a flawless manner in the upcoming year.