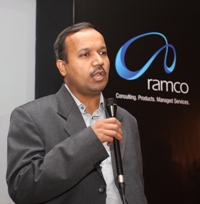 Avinash Garg,
Director, IRIS- UNIPRO
After the stupendous launch Ramco OnDemand ERP 2.0 (RODE 2.0) in Delhi last week, Avinash Garg, Director, IRIS- UNIPRO shared his views on the Ramco's revolutionary ERP architecture that is hosted on cloud.
Calling the newly launched product a pocket friendly ERP solution, Garg said, "RODE 2.0 will revolutionize the market and will be of great benefit to the SME (Small and Medium Enterprise) segment.
"ERP implementation for the SME segment has always been a complex affair. Solution providers have done many trials to suit the need of this segment, but unfortunately till now SME segment has not been able to reap full benefits of ERP," he added.
Till now SME's were not able to afford the capital cost associated with traditional ERP, but now with Ramco's unique ERP solution that is hosted on cloud, SME's can benefit from full blown ERP solution that suits their budget. The only cost related will be of subscription.
Posted by: Garima Sinha
Manager, Corporate Communications