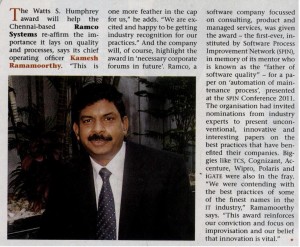 The Watts S. Humphrey Award re-affirms the importance that we at Ramco Systems, give to Quality and Process and the assurance can't have come at a better time than this! The June 12, 2011 issue of Business India featured an article on our COO Mr. Kamesh Ramamoorthy who says that the award reinforces our conviction, our focus on improvisation and our belief that innovation is vital.
The Software Process Improvement Network (SPIN), Chennai instituted the 'Watts S Humphrey Award for Best Practice' in memory of its mentor Watts S Humphrey known as the "Father of Software Quality" and had, earlier this year, invited professionals to present unconventional, innovative and interesting papers on the best practices that have benefited their organization. Ramco's paper on 'Automation of Maintenance Process' was adjudged the best among several nominations from industry experts representing software giants like TCS, Cognizant, Accenture, Wipro, Polaris, iGATE and many other organizations.
Click on the image to read the complete article. To know more about the SPIN paper presentation event, click here.