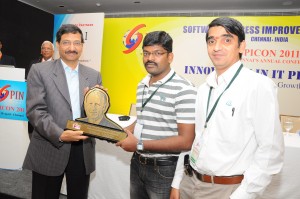 And we did it in style!
Ramco Systems has won the esteemed Watts S Humphrey Award for Software Quality and Process Improvement at the SPIN Conference 2011, organized by Software Process Improvement Network (SPIN), Chennai. Authored by M. Raghuraman from Quality Management Group and Mr. R. Srinivasan from Technology, the paper on 'Automation of Maintenance Process' was adjudged as the best paper and won the first-ever Watts S Humphrey Award of Best Practices from SPIN Chennai.
SPIN Chennai instituted the 'Watts S Humphrey Award for Best Practice' in memory of its mentor Watts S Humphrey known as the "Father of Software Quality". The organization invited nominations from industry experts to present unconventional, innovative and interesting papers on the best practices that have benefited their organization. Some of the best names in the IT industry such as TCS, Cognizant, Accenture, Wipro, Polaris, iGATE and many other organizations battled it out in this prestigious forum.
On receiving the award, Mr. Kamesh Ramamoorthy, Chief Operating Officer, Ramco Systems, said, "We are delighted to win this prestigious award, especially since we were contending with the best practices of some of the finest names in the IT industry. This award reinforces our conviction and focus on improvisation and our belief that innovation is vital. Unconventional and innovative ideas that can benefit our organization and the industry at large are always welcome. 'Automation of Maintenance Process' is one such innovation."
Presenting the award to the winners, Mr. Chandra Kumar Raman, President, SPIN Chennai, said, "We are pleased to confer the Watts S Humphrey Award for Best Practice on Ramco Systems. Software Process Improvement Network (SPIN) is a forum for open exchange of software process improvement experiences and ideas. Ramco Systems truly deserved this award for their continuous focus on innovation."
Watts S Humphrey was the founder of 'SEI's Software Process Program' and recipient of the National Medal of Technology of the United States. At the Software Engineering Institute (SEI), Humphrey established the Software Process Program and led development of the Software Capability Maturity Model, and introduced the Software Process Assessment and Software Capability Evaluation methods. These later became the basis for the development of the Capability Maturity Model Integration (CMMI), a framework of software engineering best practices that have been adopted by thousands of organizations across the globe.