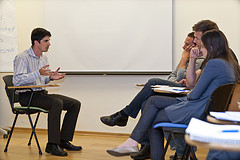 Competency is a key consideration for HR departments where human capital is seen as having a direct impact on business output. In such scenarios, competency is central to activities involving recruitment, training, performance, and continuity. However, measurement and identification of competency remain a difficult problem for most organizations, which is where the competency-based management model comes in.
Competency-based management enables standardization of
HR processes
, taking in consideration the business goals and the competencies required. This means that there should be clear mapping between an employee's competency and the results expected.
This is achieved through the following:
Competency profiling: In competency profiling, the company's goals are analyzed in terms of the various capabilities required at different stages of an individual's career. Having clearly defined these parameters, these are then applied at the time of recruitment to ensure skill compatibility.
Mapping and Evaluation: The next step involves measuring an employee's competencies and then mapping them to the correct business function, so as to optimize talent-utilization within the organization. This can be done both with trainees as well as regular employees, and should be a continuous practice, for best results.
Skill Gap Analysis: Once competency evaluation is done, the employees who lack some critical skills can be identified and provided the required training. This might be either on-the-job training, or imparted by an instructor.
Job placement: An employee who has been through this cycle of competency management is ready for the new role, and possesses all the skills and capabilities required.
Competency-based management leads to reduced turnover and higher business performance, as employee satisfaction increases because of being placed in a role matching the competencies.
Image source: http://www.flickr.com/photos/gvahim