Understanding Enterprise Resource Planning (ERP)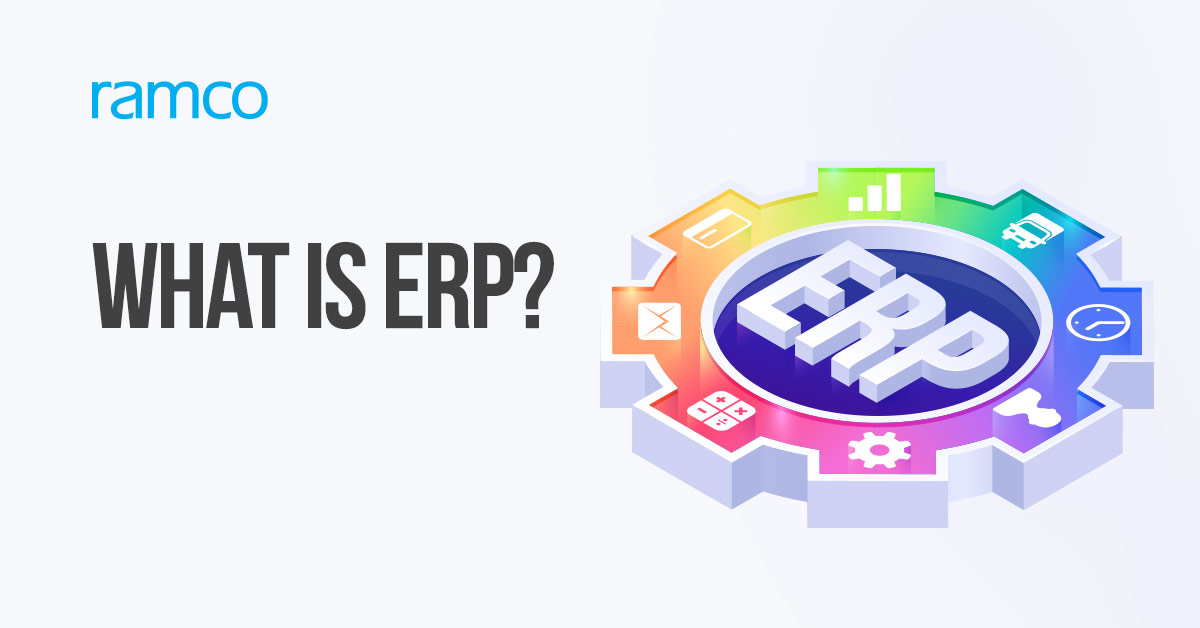 The term Enterprise Resource Planning or ERP comes up quite often in business management or operations. In fact, ERP forms an integral part of many businesses globally. To these businesses, an ERP software is highly essential. ERP connects every aspect of the business, simplifying it, and eventually enabling increased organizational efficiency and better business performance.
Let us explore what ERP is all about and understand its importance.
What is ERP?
Enterprise Resource Management is the combined process of accumulating and managing business data via one integrated software suite or individual point solutions integrated together. An ERP software comes with applications that streamline business functions such as production, accounting, and sales quoting.
The role of an ERP system usually involves increasing the throughput and helping the business grow by providing solutions precisely tailored to an organization's needs. ERP systems carry out this role by connecting every aspect of the enterprise.
Enterprise Resource Planning software can be used for simplifying individual activities across a business or organization, such as accounting & procurement, project management, risk management, customer relationship management, compliance, and supply chain operations etc.
A business with an ERP system gets to reap many benefits.
What are the benefits of an ERP system?
You can understand how an ERP system benefits an organization by looking at what aspects the software helps address:
Business process improvements


In large organizations, coordinating between multiple worksites takes much time and effort. Issues with a partner or a department across international borders can set back the entire business while precious time gets spent on endless communication channels and physical inspections.
With an ERP system: A business can revolutionize workflow visibility. An ERP system lets users operate a common database in an ERP suite to obtain real-time data on what's simultaneously happening at other centers and plants of the organization.

Business intelligence & data analytics


For running a business, decision-making must be guided by accurate data. Without sufficient data, it can become difficult to make quick changes or to engage in business forecasting.
With an ERP system: One can employ business intelligence (BI) tools for data collection, analytics, and reporting methods in real-time to take an informed business decision.

Supply Chain Management


It can take days, and at times, weeks, to develop a good schedule. If a scheduling error were to happen, or a last-minute change came into play, managers would have to scramble to make up for lost time and cover up for the errors/mismanagement.
With an ERP system: One can customize different parameters such as the time of employee check-in, delivery of inventory, and frequency of maintenance. Every schedule can be coordinated into a single calendar so that all departments and partners stay on the same page.

Cross-department collaboration


The more departments a company has, the more important it becomes to manage internal communication for avoiding mistakes. In the case of a business having international locations, all locations need to stay in contact, overcoming language barriers and time zones. Any miscommunication could lead to costly errors.
With an ERP system: Users can organize scanned documents, emails, files, texts, and phone call recordings. One can also set up private, internal channels for instant communication.

Data security


Protecting a business from fraudulent practices is important, especially in the digital age. Without protection, operating a business online in any way can be a risk.
With an ERP system: Businesses can make use of real-time risk management tools for additional security, such as automated audits and fraud monitoring. Additionally, a single ERP system can provide security by keeping all important documents and communication records in one place to avoid data duplication.

Cost Saving with customizable solutions


Business operations have to regularly encounter unique variables. These variables lead to the different needs and demands across departments.
With an ERP system: One can fit in custom modules to suit specific business needs. Additionally, the evolution of technology keeps improving the capabilities of ERP applications.
While a basic ERP system can benefit most organizations, knowing its types is essential. It can help ensure that the features of a chosen ERP system are in line with the nature and functional requirements of the business.
What are the types of ERP systems?
Types of ERP:
Generic or Industry-specific ERP
Vertical or horizontal ERP
Small business or large enterprise ERP
There are three major ways of hosting an ERP system:
On-premise: As the name suggests, an on-Premise ERP software is implemented on the company's premises and maintained in the physical office space of an organization. It is hosted on the company's own computers and servers for complete control, support, and ownership of the entire system after implementation.
Cloud-based: This ERP system type is a web-based solution, known as a software as a service (SaaS) model. Upon implementation, the organization can access and store data on any device that comes with an internet connection. ERP services are usually availed by purchasing a subscription. The software provider then offers continual support, training, updates, and flexible customizations.
Hybrid: This type of ERP software refers to a combined implementation of on-premise and cloud-based system solutions. How the services are combined depends on the provider. These software models let businesses enjoy the flexibility of a cloud-based software with some of the control benefits of a premise-based software.
In addition to being classified via platforms, ERP systems can also be segregated according to the industry they are being implemented in.
How are ERP systems classified according to industry?
An understanding of where ERP systems play a role can be gained by looking at different industries. Instead of managing with a generic ERP software package, businesses can save computing space and money by implementing an industry-specific ERP system.
There are many types of ERP systems designed for several industries to address their specific needs:
Aviation ERP: In aviation, a business must know how to manage maintenance and engineering, track inventory, customer data & preferences, refund details, transactions, and other aspects. It also must make sure that these aspects are in line with the regulatory bodies.
An ERP system helps growing aviation sectors integrate electronic data interchange and quality. Implementing an ERP system for process management provides effective control over industrial and financial activities.
Some of the sectors in aviation where ERP systems play a fundamental role are:
• Defense
• MRO
• Heli Operators
• UAS/Drones
• Airlines
Logistics ERP: Enterprise Resource Planning (ERP) software is perfect for businesses that need data analysis, automation, and infrastructure integration. Logistics is an industry where the seamless functioning of data streaming and process management is important. ERP solutions help optimize the processes and improve the efficiency of inner resources. And it particularly helps in managing the transport, warehouses, fleet, inventory among other aspects in a logistics organization.
Some of the sectors in logistics where ERP systems play a fundamental role are:
• Third Party Logistics
• Freight Forwarders
• Courier Service Providers
Asset-centric ERP: EAM or Enterprise Asset Management software is a type of ERP which caters to asset-centric businesses. It involves a set of processes and tools that can track and manage physical assets (such as equipment, buildings, and vehicles) throughout their life cycle. An asset-centric ERP can cover every phase - from the moment of planning and procurement to the moment of replacement and disposal.
EAM can help plan, optimize, execute, and track maintenance activities with the associated materials, priorities, tools, skills, cost, and other information.
Some of the sectors in asset management where ERP systems play a fundamental role are:
• Manufacturing – Discrete manufacturing and process manufacturing
• Energy & Utilities
• Equipment Rental & Services
• Infrastructure & Real Estate
• Facility Management
Service-centric ERP: When it comes to the services industry, planning resources comes with different challenges:
- Business expansion
- Maintaining profitability
- Keeping up with the competition
- Regional demands and project-based customizations
Service-centric ERP software can help achieve cost optimization, new revenue generation, and global expansion without losing local focus. A Service ERP system can help businesses offer unique value-added propositions for successful retention of customers and quicker turnaround times.
Some of the sectors in service-based industries where ERP systems play a fundamental role are:
• Staffing and recruitment
• Professional Services
• BPOs
• Facility Management
• Contract Workforce Management
To help organize business data and processes, one should take the help of an ERP system provider whom organizations across the globe trust.

Ramco ERP
We are a cloud-based enterprise resource planning software that can offer a company the freedom to access its data anytime and anywhere. We specialize in replacing disparate systems to let businesses manage their operations from one integrated platform.
Here's what makes our ERP systems unique:
Power of One: Our ERP software is built from the ground up, using One Codebase, which helps ensure that all components of the ERP system work seamlessly with each other.
Cloud Benefits: The ERP system comes with cloud benefits which let organizations save a lot on cost via Zero CapEx and pay-for-use subscription.
Mobility: Our ERP system helps reduce execution time by establishing 24/7 connections between departments to get real-time insights on the go.
Flexibility: The ERP system can help enhance customer experience via a wide range of extension tools and capabilities.
Integration: The ERP system comes with a robust enterprise services platform that offers a complete integration solution for all Ramco ERP applications across industries.
User Interface: Our software regularly updates itself with features that focus primarily on moving towards ZERO UI, letting artificial intelligence provide the best-in-class User Experience.
In-Memory: The ERP system helps optimize processes, plan resources, and minimize costs by simplifying complex procedures.
Context Awareness: Our ERP software is an intelligent and intuitive application that proactively presents relevant information to users based on their role and security privileges.
Innovation driven: Artificial Intelligence (AI), Machine Learning (ML) and Natural Language Processing (NLP) are at the heart of solutions, enabling innovative features like Voice-enabled interactions and facial recognition-based attendance system
Summary
Enterprise resource planning (ERP) software is designed for helping companies store, manage, and use data for their daily and regular operations.
ERP systems manage a wealth of information, including payroll data, raw materials, purchase orders, business commitments, and production capacity.
Implementing an ERP system can help a business improve its workflow visibility, scheduling, data access, risk management, and many other aspects.
Based on the platform type, ERP can be classified into on-premise, cloud, and hybrid. ERP systems can also be customized and classified on the basis of different industries and sectors.
Ramco Systems offers end-to-end solutions spanning across industries and functions that can help your business grow beyond expectations. Get in touch with us to know more about our ERP solutions.
About The Author
SUBSCRIBE TO EMAIL UPDATES